Career background
Having studied Industrial Design at uni, I fell into the industry after a mate suggested I apply for a junior business analyst job at a small digital agency called Salsa Digital. I thought they hired me because of some fluke innate ability I had, it turns out I was just cheap! Salsa gave me a great grounding in software development, stakeholder management and the perils of warranty support.
After Salsa I moved to a larger digital agency called Next Digital, which soon re-branded to Asia Pacific Digital. There, I was able to cut my teeth on more strategic work, larger scale projects and finally UX. Years later I moved to Australia Post (MyPost Consumer) as a UX designer, and shortly after – the UX lead. Australia Post gave me space to explore UX and its facets, all within the Scaled Agile Framework.
What made you decide to join us?
I worked with some Elabor8ers at Australia Post who were clearly good operators, and heard it was an "awesome" place to work. Through a mutual friend, I was introduced to the consultant who lead the Product and Experience wing of their services and was offered an opportunity to help grow the offering and team. I grabbed it with both hands – which turned out to be a pivotal decision in my career – as it helped broadened my horizons and deepened my knowledge significantly.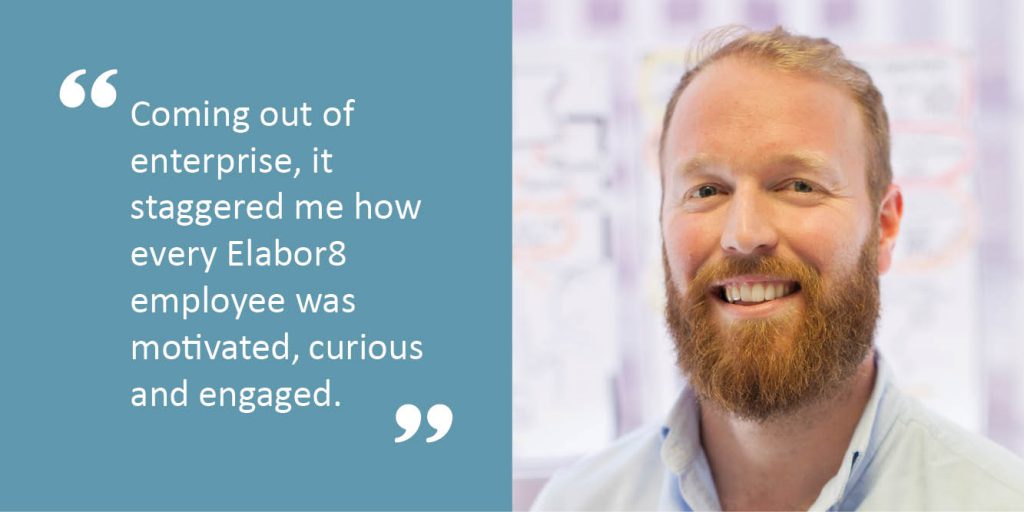 How was your experience?
Coming out of enterprise, it staggered me how every Elabor8 employee was motivated, curious and engaged. I was used to a different energy, so I needed to lift to their level! Something else I remember distinctly (as it was my first consulting gig) was how excited clients were to work with us as opposed to the challenges I faced mustering meagre levels of engagement working in-house.
Part of what makes Elabor8 a great company is how much freedom they give you. In all my engagements I was always seeking to improve, and creating new artefacts or methods naturally falls out of that. You always felt supported to explore those things. The two primary learnings I gained has been the breadth of mapping types, and the importance of maps in the context of strategy in addition to complexity theory. Both have provided a fundamental shift in how I think and approach problems.
My absolute highlight at Elabor8 was when I was part of a small team sent over to London. Not only was it a massive learning experience, it was also a great life experience in being a globe trotting consultant!

Where are you now?
I was approached in January for a global role as Head of Product for a video-on-demand (VOD) company called iflix. The company is 4 years old, operates in 32 countries with a rapidly growing user base. I'll be heading up the direction of the platform across iOS, Android, Web and Smart TV for all regions, in addition to growing and developing both Product and UX capabilities.
Thanks Tom, we really appreciate your contribution to the company and to our customers and look forward to seeing where your career takes you…