Many organisations have benefited from the transformational principals and pratices of Lean and Agile at the team level, but can these learnings be applied to large enterprises tasked with building complex solutions that potentially require hundreds of people to develop?
The Scaled Agile Framework® (SAFe®) is a knowledge base of proven, integrated principles and practices for Lean, Agile, and DevOps that help large organisations tackle the challenge of Agile at scale. SAFe was released in 2011 and is currently the most popular method for scaling Lean and Agile (as reported by the 12th Annual State of Agile report).
If you're considering whether SAFe is right for your context, this is the first article in a five part series that will explore four key things you should know about SAFe.
Let's begin our journey with an overview of the four elements, which we'll explore in more detail in the subsequent articles.
1. SAFe is a Lean-Agile Framework
SAFe is a framework and frameworks are not cookie cutters. In other words you can't just cut and paste SAFe on to your organisation. Rather you need to understand the underlying Lean and Agile values and principles that drive the framework i.e. the 'why', and apply them appropriately within your context. In this way the values and principles will act as the all important compass on your journey.
While the Lean influence in the framework is embodied by the House of Lean, the Agile influence comes from the Agile Manifesto.

The House of Lean, which is based on the Toyota Production System, is a classic metaphor for describing the values that are essential for Lean thinking.
The Agile Manifesto contains four values and twelve principles, and the many and varied Agile practices help provide the foundation for empowered, self-organizing teams.
SAFe extends the Agile team by creating a team-of-Agile-teams, which is known as an Agile Release Train (ART).  An ART can have between 50 – 125 people, and is a key SAFe construct in aligning and coordinating teams to ensure they continuously deliver value to their customers.

2. There are Four Configurations of SAFe
SAFe is a configurable framework, and the entire framework can be visualized in a single image, which is known as the Big Picture.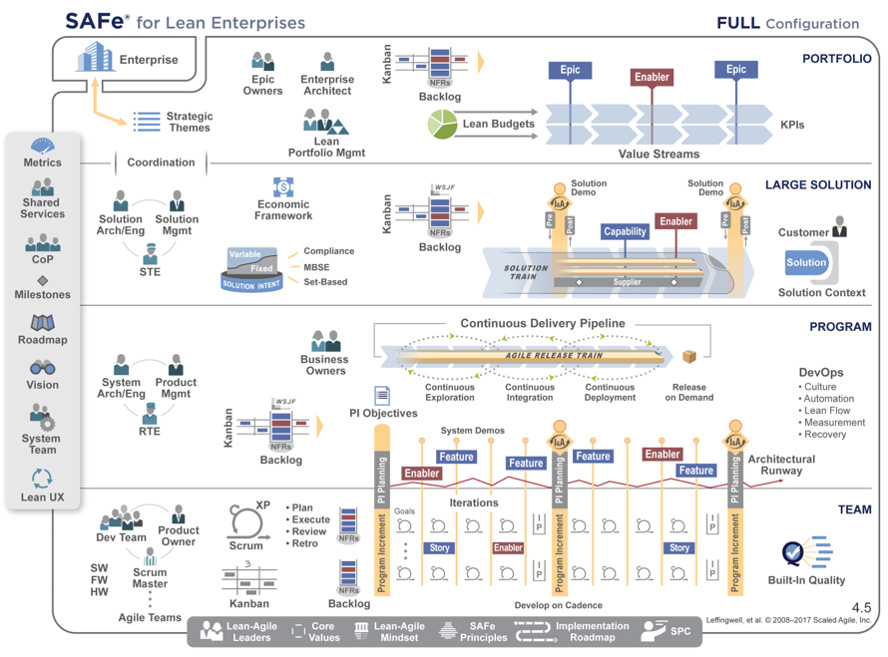 You will notice from the Big Picture that the framework is broken into four levels – Team, Program, Large Solution and Portfolio. In addition to these four levels, SAFe has four configurations and the levels form the basis of these configurations, including:
Essential SAFe

– this includes the Team and Program levels and is the starting point for implementing SAFe.  Essential SAFe describes the most critical elements needed to realize the majority of the framework's benefits.  Only after implementing Essential SAFe and building a strong Lean and Agile foundation would you consider the other three configurations.

Portfolio SAFe

– is for enterprises that build multiple, largely independent, Solutions that also need to incorporate portfolio concerns. These may include strategy and investment funding, innovation across various Value Streams, and Lean governance. It adds the Portfolio Level to Essential SAFe

Large Solution SAFe

– is for enterprises that are building large and complex solutions that require the contribution of multiple ARTs and Suppliers, but do not require guidance at the portfolio level. It consists of Essential SAFe and the Large Solution Level.

Full SAFe

– this includes all four levels and is the most comprehensive configuration.  Full SAFe is intended to support those enterprises building large, integrated solutions that typically require hundreds of people or more to develop and maintain.
3. SAFe has an Implementation Roadmap
While a framework may contain some great ideas, the challenge is often around how best to implement the framework.  This is where the SAFe Implementation Roadmap comes in to play.
The SAFe Implementation Roadmap describes the steps, or 'critical moves,' an enterprise can take to implement SAFe in an orderly, reliable, and successful fashion.  In addition to the steps in the roadmap being based on proven organizational change management strategies, hundreds of the world's largest enterprises have already gone down this path and successful adoption patterns have become clear. A fairly standard pattern is shown below. Elabor8, who are a Gold SAFe Transformation Partner, can provide the training, consulting and coaching services to help enterprises and organizations implement SAFe.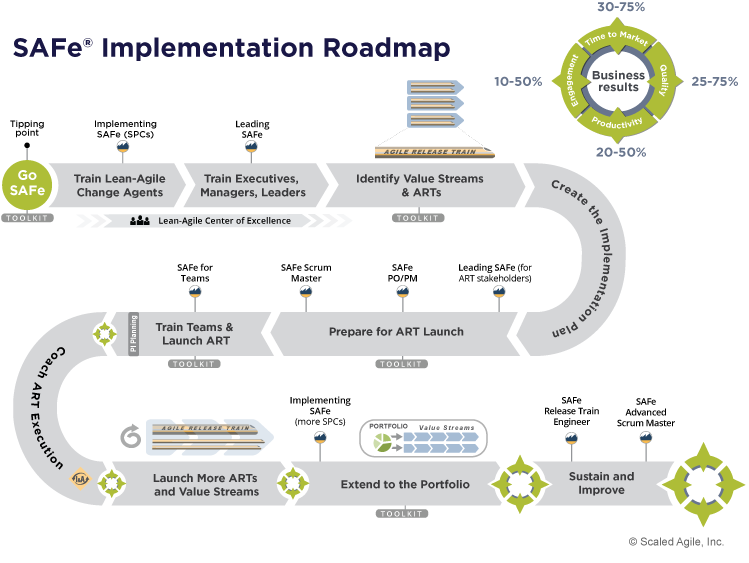 4. SAFe has Role Based Training
Training is the foundation on which any successful implementation is laid.  Why? Because it's critical that people know what the change is and how it will directly impact them. Only through training can people explore the new ideas in a safe environment.
SAFe has 11 different core and advanced courses, which we'll explore in more depth in a later blog.
Most importantly, capability uplift doesn't start and end in the classroom. Partnering with a consultancy like Elabor8 to coach individuals, teams and executives through your SAFe Implementation will maintain continuity of care from the classroom into your unique context.
No matter which framework you choose, implementing Agile at scale will be a significant transformation for your enterprise that will not only be rewarding but will ultimately be necessary in order to remain competitive in today's hyper competitive world.
Now that we've established the four key elements of SAFe that should be considered as part of any transformation, in the next article we'll explore the values and principles that guide SAFe in more detail.
Have we piqued your interest? Get in touch if you'd like to discuss scaling agile within your organisation.