We're proud to be Gold Sponsors of Agile Australia again this year and to share the talks and workshops that our consultants will be giving as part of the 2016 program. Since attending one of the first conferences, Elabor8 has throughout the years grown its involvement with Agile Australia.
All our people at Elabor8 are passionate about professional development. To perform to our standards, we encourage our consultants to find learning opportunities to improve their capabilities and keep them informed about the latest industry trends.
Over the years, the Agile Australia conferences have brought together technology leaders from across enterprises wanting to share innovations and find better ways of working.
The conference recognises the many flavours of Agile while the program reflects the different approaches, levels, and tools available to organisations today.
We've always received great value out of Agile Australia and as community facilitators our continued support for this industry-leading event is a natural fit.
Agile Australia is returning to the Melbourne Convention and Exhibition Centre over 20 to 21 June.
This year's theme of 'Towards the Agile Country' is about building an environment in which learning is constant, empathy permeates all that we do, and where we embrace change and embed innovation in order to secure Australia's future prosperity.
---
"Since its inception, Agile Australia has enjoyed the support and engagement of the community who submit and speak, as well as more than 70 volunteers who over the past 8 years have helped to guide each program and grow the conference to now attract over 1200 delegates.
This is why in 2016 the conference has the ambitious theme 'Towards the Agile Country', and the program – while still concentrating on building better software through Agile – will also explore Lean, Kata, the Vanguard Method, design thinking, and opportunities for innovation, agility, and creativity."
Rachel Slattery, Conference Director, SlatteryIT
---
The Agile Australia 2016 program is divided into eleven content 'buckets':
Advanced Agility

Build the Right Product

Changing Culture

Enterprise Agility

Everything Lean

Supportive Leadership
The Agile Individual + Teams

The Design Mindset

The Engineering Mindset

The Manifesto – Revisiting the 12 Principles & 4 Values

The Toolbox
Agile Australia is known for their exceptional keynote speakers and thought leaders. This year the conference received a record number of 300+ speaker submissions.  We're thrilled to announce that Ryan McKergow, Lead Consultant at Elabor8 has been selected to speak.
---
"I'm very excited to be accepted into Agile Australia. There were a lot of great submissions and speakers that unfortunately weren't able to make the program, so I'm very fortunate to be speaking.
I believe I've hit a cord with my submission and the timing is just right. We're really starting to see the take off of discussions around how we do and be agile at scale. Continuous improvement (and even more specifically retrospectives) is something I'm really passionate about, so I'm looking forward to sharing my passion and what I've learnt so far!"
Ryan McKergow, Lead Consultant,  Elabor8
---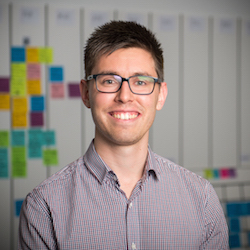 Ryan McKergow
Retrospectives are one of the most effective continuous improvement practices, but how do you scale them beyond your team? This is the problem I faced with running regular retrospectives with more than 50 people. And with many large organisations scaling agile or adopting the likes of SAFe we are going to run into this problem much more frequently. After all we must not forget that agile is underpinned by the ethos of reflection and improvement.
During this talk, I will discuss how companies like Spotify & Atlassian have implemented scaled retrospectives, and where their stories have helped us and what didn't work for us. I will share some practical tips on how we've run awesome scaled retrospectives and avoid wasting everyone's time. Learn how you too can improve your entire organisation, not just your development teams.
The Keynotes I'm excited about
"I'm quite interested in learning from Luke Hohmann. He has achieved so much and been so active in the Agile community that I'm sure he'll be inspiring everyone attending Agile Australia. Luke actually connected with me on LinkedIn after he found out I was using the Speedboat Retrospective technique that originates from his company's website. It just demonstrates how awesome the Agile community can be in that everyone just wants to help each other out."
"I'm also interested in seeing how Hakan Forss and Peter Halacsy present and seeing if I can learn some new tricks. Hakan promises an all Lego presentation and Peter is the co-founder of Prezi (an alternative presenting tool). Sounds pretty cool to me!"
Agile Australia workshops will take place in Melbourne (22 June) and Sydney (23 June). These days encourage hands-on learning and provide the opportunity to discover new tools, approaches and training that can be applied immediately to the workplace.
We're excited to share the news that Jody Podbury, Head of Delivery Services for Sydney at Elabor8 will be running a workshop in both cities this year.
"I was very excited to be approached about running a workshop for Business Analysts at Agile Australia. The team at Agile Australia saw a need to have something in the program for Business Analysts to connect with and I am delighted to be able to meet that need.
As Agile matures it's really important to see how the Business Analyst role can evolve and grow with the rest of their Agile Teams and find new ways to continue to add value and focus the team on delivery."
The workshops I'm excited about
"I am excited about James Brett's workshop  – The year I worked with James was a period of rapid professional development for me and a lot of that was due to the opportunity to work with James. He is committed to being able to help others develop and his courses are always fascinating and fun."
"I have seen Sandy Mamoli & Dave Mole present at previous Agile Australia's and they are always informative and entertaining. I have tried Self-selection with teams with mixed results. I can't wait to see how they have made it work and how I can bring that to life for our clients."
"The Toyota Kata. The concept of the Coaching Kata and the Improvement Kata as a pair of practices is so powerful. I love the idea of creating a continuous improvement culture around a simple every-day practice like the Kata. I am really looking forward to seeing how to bring it to life.
"Elabor8's exhibitor space this year will have some exciting new giveaways and competitions as well as a bunch of Elabor8ers to talk scaling agile with.
We'll also be sharing previews to our Elabor8ers' sessions in the lead up to the conference, so make sure you keep an eye out for those upcoming blogs.