As a Business Analyst, I'm lucky enough to be continually learning new tools, techniques and methodologies. The greater number of tools under my belt, the greater choice I have in not only planning my approach, but also in conducting my analysis activities. The BABOK outlines a total of thirty-four "generally accepted techniques that support the practice of business analysis", however, in my experience there are many more techniques out there.
Today I will be focusing on Rich Pictures and CATWOE, which are somewhat lesser known, yet simple techniques which can both add value to analysis activities. These techniques have their roots in Soft Systems Methodology (SSM), but I've found them to be quite useful as tools forming part of my analysis approach.
Scope modelling
One of the first things I like to do when trying to understand a problem is to develop a high-level overview of the situation. What's in scope? Where does the work fit in? Who are the stakeholders? And so on.
A common way to model scope is to use a context diagram, which the BABOK defines as:
"An analysis model that illustrates product scope by showing the system in its environment with the external entities (people and systems) that gives to and receives from the system."
Given that a context diagram depicts a system, it makes sense to have our 'System Thinking' hat on, whereby:
"In the context of systems theory, the term 'system' is much broader than an IT system—it also includes the people involved, the interactions between them, the external forces affecting their behaviour, and all other relevant elements and factors."
Rich pictures
This is where Rich Pictures can add value. As the name suggests, Rich Pictures are detailed, visual (often hand-drawn) representations of what are typically complex and ill-defined systems. It is a terrifically simple way to conceptualise the scope/context of any system you may be analysing.
There is no hard-and-fast rule about what to include in a Rich Picture, and it does not have any syntax. The unrestricted nature of this technique means you can address, or highlight all the key considerations of a 'system'.
Some of the advantages of Rich Pictures include:
Provides a concise overview of complex systems
Consideration for the 'human / non-IT' factor
Not restricted by notation
Excellent visual communication artefact
Efficient and simple process from rough to final
Creation process helps to improve understanding
Use of symbols and metaphors assist in developing a shared understanding
Of course, some may argue that Rich Pictures comes with its own set of disadvantages, such as appearing ad-hoc and unstructured, or its images, symbols and metaphors becoming confusing and leading to conflicting points-of-view. The biggest disadvantage I have experienced is that it presents the AS-IS view, and doesn't necessarily provide a 'solution' to a problem.
Despite these perceived negatives, chances are, you're probably already using Rich Pictures in some form or another in your day-to-day activities. It can be as simple as drawing something up on a whiteboard to support an explanation. Some believe that depictions of customer journey maps and use-case context diagrams are different types of Rich Pictures.
Let's take a look at an example: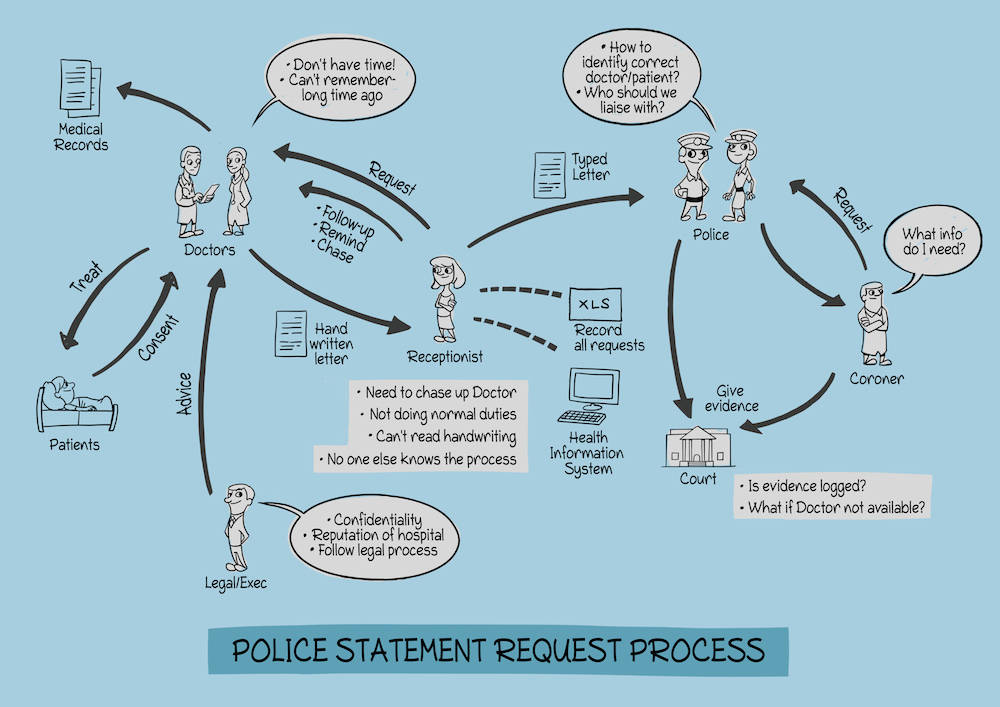 In addition to, or in parallel with the Rich Picture, I also like to run through a set of questions, captured using the acronym CATWOE. These questions help guide my analysis and really complement the Rich Picture.
Naturally, this should be an iterative process in which you engage with the stakeholders and build up your model as your understanding improves. It's not something that is recommended you do in isolation, in one sitting.
CATWOE is broken down over six phases, as described below:
 Client
– Who is on the receiving end?
– What problem do they have now?
– How will they react to what you are proposing?
– Who are the winners and losers?
Actors
– Who are the actors who will 'do the doing', carrying out your solution?
– What is the impact on them?
– How might they react?
 Transformation
– What is the process for transforming inputs into outputs?
– What are the inputs? Where do they come from?
– What are the outputs? Where do they go to?
– What are all the steps in between?
 World View
– What is the bigger picture into which the situation fits?
– What is the real problem you are working on?
– What is the wider impact of any solution?
 Owner
– Who is the real owner(s) of the process or situation you are changing?
– Can they help you or block you?
– What would cause them to get in your way?
– What would lead them to help you?
 Environment
– What are the broader constraints that act on the situation and your ideas?
– What are the ethical limits, laws, financial constraints, limited resources, regulations, and so on?
– How might these constrain your solution? How can you get around them?
Now I know many of these questions would already form a standard part of your day-to-day work, but what's nice about the CATWOE approach is that it bundles them all up and provides a nice structure in which to conduct your analysis activities.
One of the things I like to do is run through the Transform, World View and Environment questions for each of the clients and actors. For example, with my 'Sales Manager' hat on what would my World View be?
And what would it be as a 'System Administrator'? This helps me to consider all different perspectives and angles to the problem, and also highlight possible pain points and areas where there may be conflicting views.
Of course you couldn't expect one set of questions to provide complete coverage for your analysis – they are designed to be used as prompts, and can be easily supplemented with additional questions, depending on your individual circumstances.
Within SSM, CATWOE is a way to help formulate a Root Definition – a structured description of a system. However, this is beyond the scope of this blog. I don't really use or apply the SSM so I may not be using Rich Picture and CATWOE as they were origi\nally intended, but for me, it's the process, the thinking and the understanding that I derive from using these techniques that I find most valuable.
If you've used Rich Pictures or CATWOE in the past, I'd be interested in hearing about your experiences and any tips you may have in the comments section below.