Our Approach
We leverage deep expertise across a range of agile frameworks to deliver fit-for-purpose SAFe implementations and support their adoption with agile coaching from real practitioners.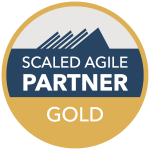 Elabor8 is a Gold Partner with Scaled Agile Incorporated and has a large team of certified consultants with deep expertise in the implementation of SAFe.
SAFe Case Studies
We have supported the roll-out and optimisation of SAFe in some of Australia's biggest brands. We help our customers to build enviable cultures that attract and retain top talent, despite the challenges of large interdependent teams, complex architectures and diverse stakeholders. We deploy SAFe variants in outsourced environments with multiple vendors and with geographically dispersed teams.
Monash University
Working across the university we led a project recovery and then launched a SAFe Release Train to tackle a portfolio of work aimed at building the student experience of the future.
Australia Post
We've partnered with Australia Post for nearly five years working across a variety of their business units. Australia Post is considered to be one of the standout SAFe exemplars in the world, an example of how agile can work in large enterprises. Australia Post's agile release trains can deploy multiple times per day, iteratively building great products and services.
NBN
NBN embarked on one of Australia's most ambitious agile transformations launching multiple "Service Teams" covering over 3000 people in their engineering division. Six months into the journey, while it was felt that there had been some improvements, the business decided that the Service Teams would benefit from a formal relaunch. We partnered with NBN to re-launch and train over twenty service teams using SAFe's Implementation Roadmap and Quickstart Launch Pattern.
Coles Financial Services
We partnered with Coles Financial Services to establish an agile release train which drew deep analytics on the vast troves of data available through their loyalty programs, customer data and payments networks.
SAFe Training
Our Academy is one of the only agile training organisations in the country certified to deliver ICAgile, Scaled Agile® (SAFe Training), Scrum.org, LeanKanban University and Management 3.0 courses. We provide the full suite of SAFe Training courses, delivered by experienced practitioners who have deep knowledge in SAFe, Scrum and Kanban meaning that Elabor8's training courses offer greater team level insights than any SAFe training provider.
SAFe Agile Release Train Launches
An Agile Release Train is a team of agile teams working in a coordinated fashion to develop products and features. Our experienced consulting team can help you to launch ART's over 6-8 weeks and avoid some of the pitfalls
Train your Leaders, Product Owners, System Teams and teams
Identify an appropriate value stream for your SAFe ART Launch
Help you to shape up your feature backlog in preparation for your first PI Planning Session
Ensure that your physical and technical environments are ready to support a successful ART
Help you define team structures
Launch your first PI Planning Session (Big Room Planning)
PI Planning
We can help you to maximise the return on your PI Planning (Big Room Planning) investment by providing experienced practitioners to help you prepare for and facilitate the event. We can also provide visual facilitation support.
Get our SAFe PI Planning Tips and Tricks. 
SAFe Agile Consultants
We have played a significant part in building some of the standout SAFe deployments in the Asia Pacific region. We provide both assistance with launching trains and also experienced SAFe consultants and SAFe coaches who can both deliver and uplift existing teams.
SAFe Release Train Engineers
SAFe Agile Product Managers and Agile Product Owners
SAFe Agile Business Analysts
SAFe Iteration Managers / Scrum Masters
SAFe DevOps Engineers
SAFe Agile Teams
For organisations that have mature SAFe deployments and are looking to augment their delivery capacity, Elabor8 provides full stack Engineering Teams that can seamlessly integrate into your existing Release Trains to help you during times of excess demand and solve challenging problems.
Work with us.
Empower people with new skills and a changed mindset and give your business a strong platform for growth.